"Old charm meets modern dining at this waterside restaurant.
Sydney, the waterfront, Italian cuisine. It's a decadent trifecta that strikes a chord with local punters hoping to lap up views of some of the iconic vistas, and maybe some olive oil with the bread from their plates
A stylish newcomer to take pride of place on Sydney's glamorous Woolloomooloo Finger Wharf is Il Pontile (translated to 'the jetty'), offering an elevated seafood-focused rendition of Italian fare.
Opening quietly in late 2021, the restaurant is the work of fourth-generation Italian restaurateur and head chef Mario Percuoco, son of Armando Percuoco, of Buon Ricordo fame.
For Il Pontile, park up on one of the outdoor tables and soak in the said watery views under a Louis Roederer branded cream umbrella and remember how nice it is to be able to eat outside of your home, something that not too long ago seemed like a distant fever dream.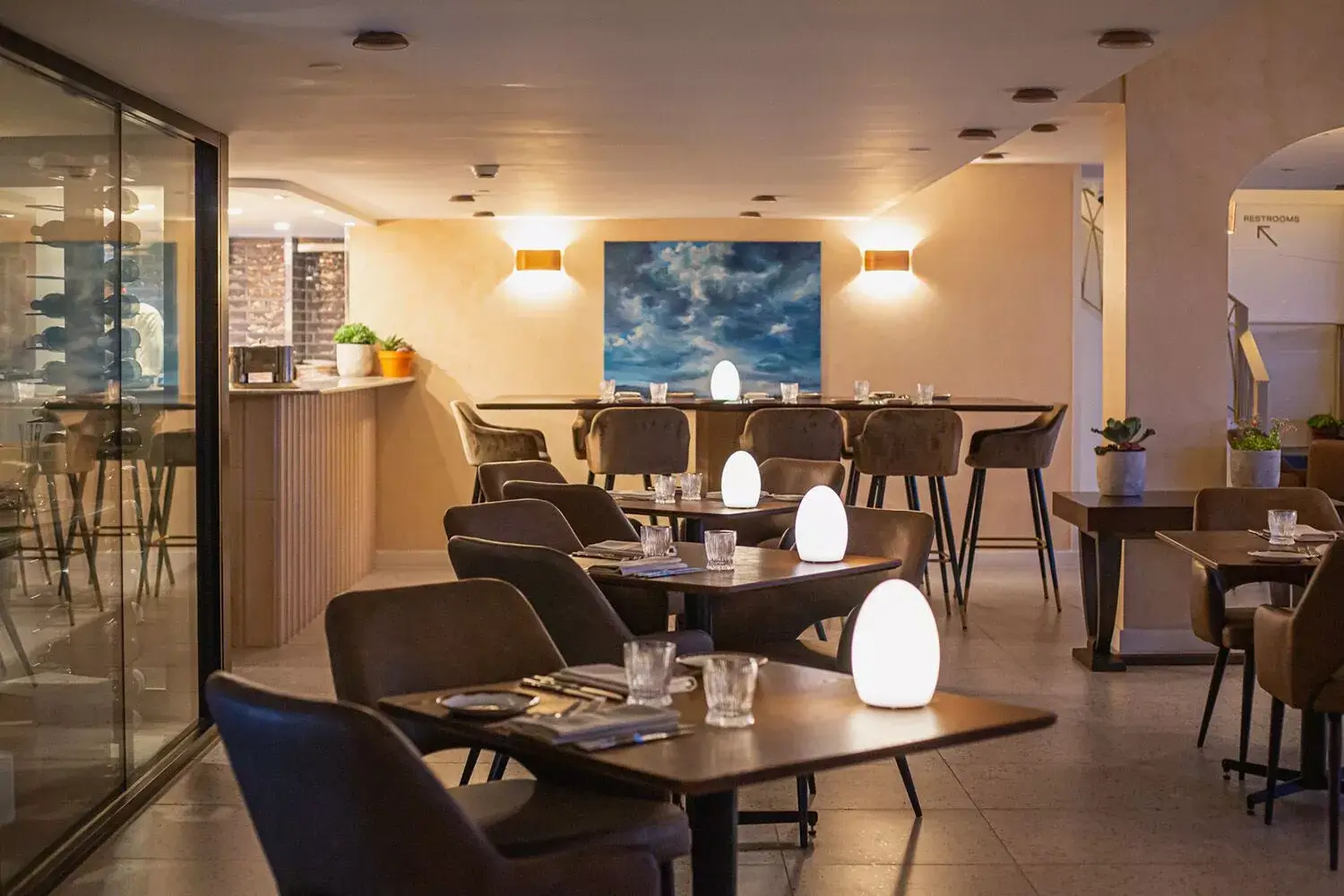 The cream umbrella and arched doorways are all part of the new décor that takes on a rustic Mediterranean feel courtesy of a heady refurbishment by local design firm Bang Architecture. The new look prizes neutral tones, with walls mimicking Venetian plastering paired with brown leather seats.
Beyond the stylings of the restaurant, the plating offers a combination of old meets new Italian dishes. To start, opt for the ricotta and olive oil with fresh bread — to indulge in the aforementioned 'lapping' — and pick from the oysters, served with vinaigrette, and Kingfish with citrus fruits and the unusual pairing of raspberries.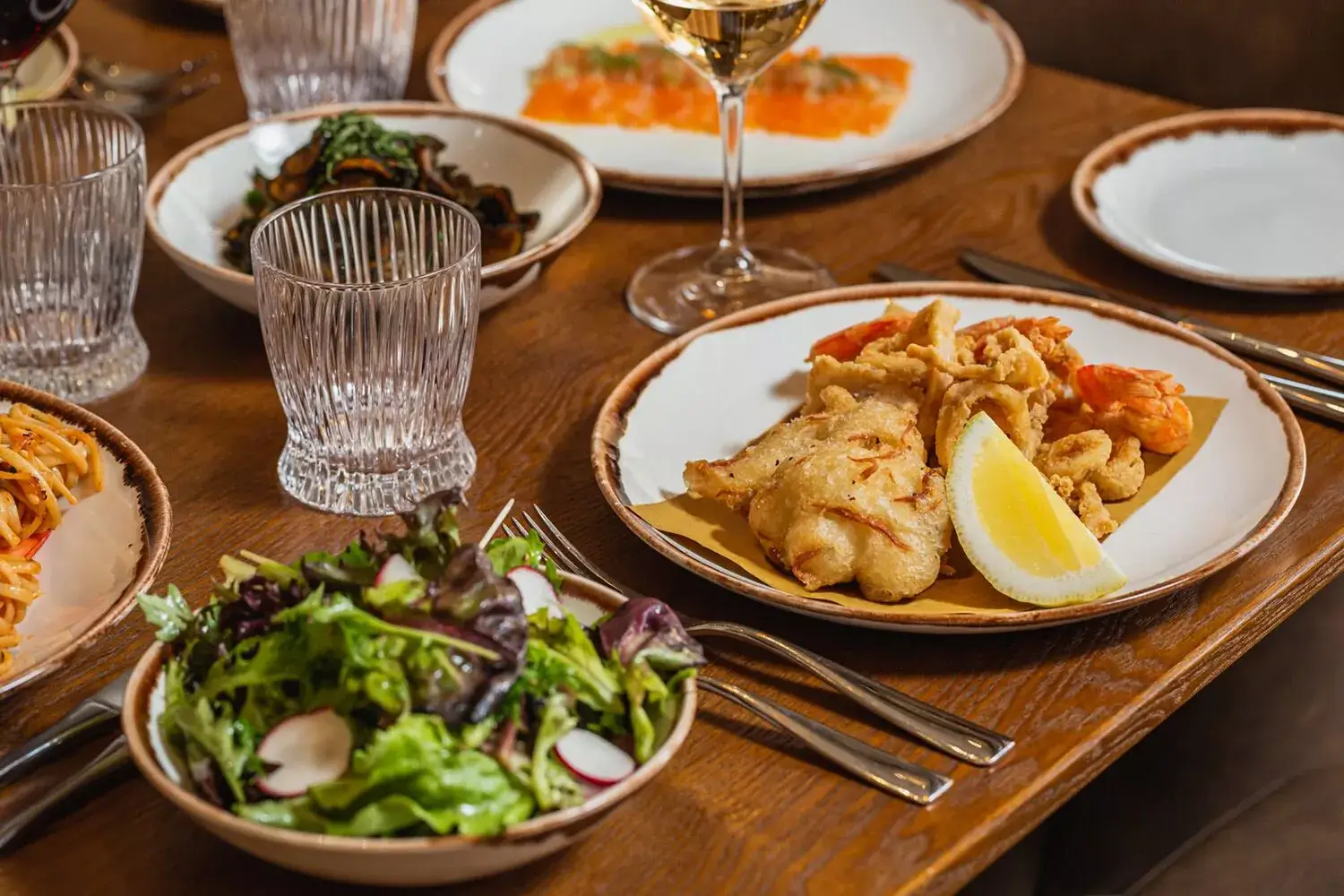 Further down the antipasti menu, in the 'old' column find the Frittura di Gamberi e Calamari, a classic Italian style fried prawns and calamari dish and one you'll be hard-pressed to find as delicately executed. In the 'new' column, sees a Burrata con Nettarine e Nocciole, a delightful combination of the world's most instagramable cheese, peaches and hazelnuts for a balanced, elegant and uplifting dish.
While there are numerable pasta and mains to select from — think plates of traditional Neapolitan rigatoni and ragout, a fish of the day and 1-kilogram Tuscan style black Angus T-bone to share — I couldn't go past the Linguini al Cartoccio.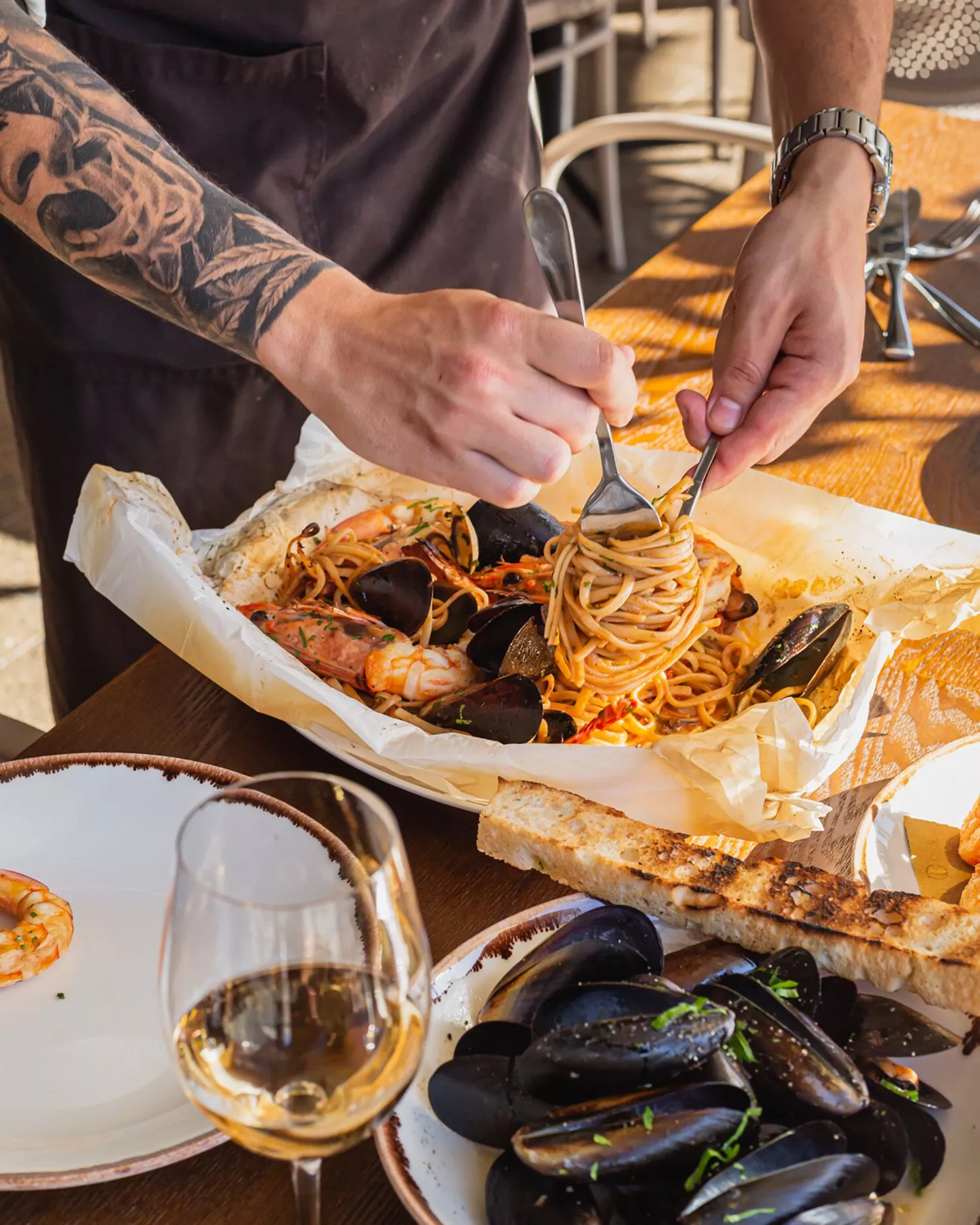 Here, and fittingly so by the water, comes a linguini baked in a parcel with mixed seafood (pipis, king prawns and mussels) designed to share. Unwrapped at the table, like a delicious Christmas gift, the concentration of marine flavours paired with a light tomato-based sauce is second only to the masterful cooking of the handmade pasta.
Much like the menu, the wine list is heavily geared towards representing Italy's best with a long, traversing list that walks from Lombardi to Sicily, Abruzzo, Friuli with the odd visit to French and even Australian wineries selected by head sommelier Carlo Russo.
Wine list aside, a sophisticated selection of cocktails fill the beverage offering with the likes of a Sicilian Negroni (it sees a dash of blood orange) or the Very Sexy Martini with its use of vodka, raspberry, mint, lime juice and sparkling rose.
To finish, aside from a nightcap of amaro, or limoncello, there's a list of daily sorbets, short pastries and naturally a classic Tiramisu — the latter of which arrives in a tall glass and harks back to an era of classic Italian dining.
For Il Pontile, it's the influence of the old world charms — perhaps inevitable from a lineage such as Percuoco's — combined with new world cooking that elevates yet another waterside Italian diner with a winning combination.
Ilpontile.com.au"
Author: Terry Christodoulou