"Sun, sea and sunnies. We are transported back to the Amalfi coast with one twirl of the fork and a slurp of linguine. The water is sparkling in our glass as the last of the evenings rays bounce of the lapping waves at the wharf. We are not in Italy, we are at Il Pontile (meaning wharf) and we are in heaven.
We've all had Italian, some good, some bad, some Mweh! But this place rewrites our Top 10 list of all time and we are not just talking NSW or Australia here. Having spent time eating our way through Naples and beyond there is something extrodinary going on in the kitchen. Call it history, terroir, technique we are stepping back in time. It's a culinary muscle memory passed down through four generations of acclaimed chefs.
The head chef is much acclaimed Mario Percuoco (ex Acqua Pazza in the city) having returned from Italy, the son of Armando Percuoco much loved for his legendary contribution at Buon Ricardo. The Graaf Group-backed restaurant has created a step change at the southern end of the wharf including a dog friendly envirnoment thanks to the owners German Shepherd Nero, who is clearly as popular as the pasta!  The interior design is clean and classic with a glass cellar, chandeliers and a VIP dining room. Take your pick of summer chairs at the front or the very luxurious tub chairs you could curl up in and happily while away afternoon into evening.
Mario's warm and effusive personality guides us through the menu. First up is Trota Oceanica, a luscious layer of 48hr cured trout, edible flowers, cod roe, aged balsamic and Italian La Masseria olivie oil which is so lucious we can feel our hair glossing up by the spoonfull. Frittura di Paranza is a duo of lightly flour dusted local calamari and two jumbo prawns, please sir can we have another prawn?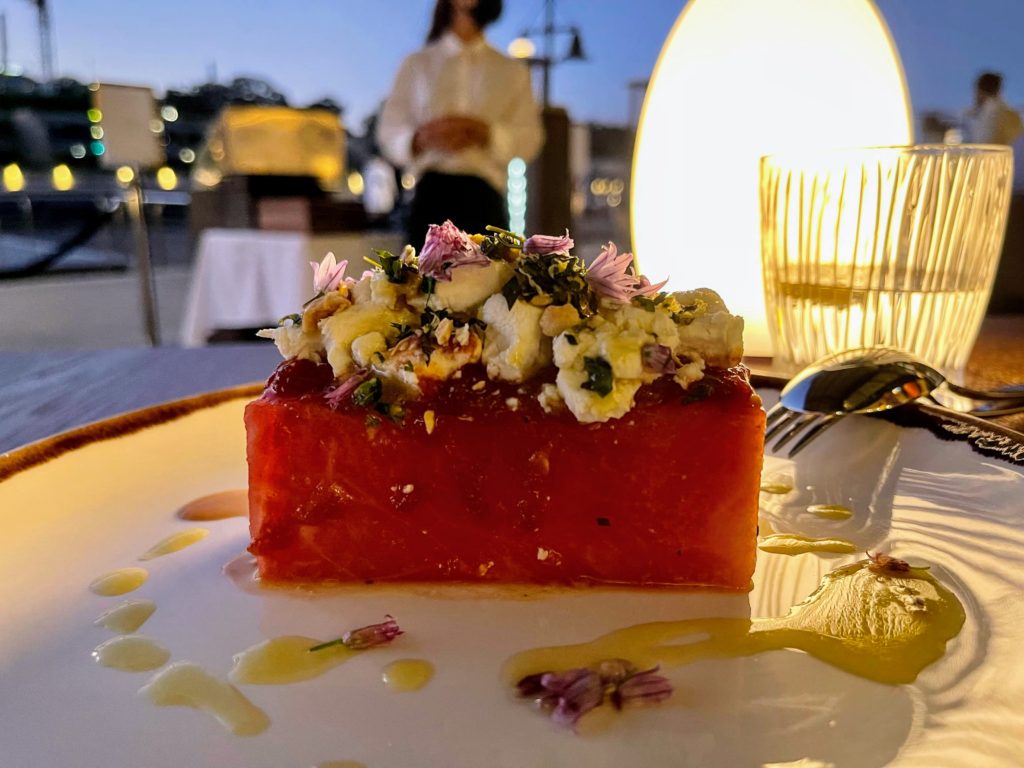 Next up is a palate cleanser. A slab of watermelon is topped with goats cheese, hazelnuts and molasses. It's a far superior version of a much loved BBQ favourite of watermelon, mint and feta. Heck.. we are going to steal this recipe!
Fine or 'nice' Italian dining often means that pasta's are small and an onboarding ramp to mains. Not here. THIS is the reason you go to bed and are still dreaming. The dish we are obsessed about is the signature Linguine al Cartoccio. It arrives in a parchment bag that they open at the table, then toss around jumbo shelled prawns, finely sliced rounds of calamari rounded out with a divine sauce – Oh my goddess – its a silky, buttery, olive oil emulsion with a light touch of tomato. Its hard to carry on the review after this masterpiece, but Rigatoni alla Genovese is a beauty, slow-cooked meat ragu with a shower of fluffy parmesan. Pasta's are generously portioned and we head into mains of Kingfish sauteed with cherry tomatoes and clams along with a single tuna medallion crowned with crushed pistachio, herbs and olive oil. Sides of room temperature zucchini with mint and vinegar is a refreshingly new take.
The wine list will take you on a romp through Italy and beyond. You must start with Borgo Molino, Prosecco Extra Dry and head onto an Asylum 'Il Terzo Grado – a nicely balanced Sangiovese. Service is friendly. We might be in Sydney but being transported to the shores of Naples is simply a forkful away.
We often get obsessed with the what's new, but here we experience the knowledge of generations of chefs who share their story. They tell us about the values we should hold dear – family, love, mastery and gratitude for those who came before us. It's here, that you taste every technique and flavour which has been passed down from generation to generation. Salute!"